10 items you need when TRAVELING with a toddler
This post is sponsored by Walmart - thank you for supporting the brands that I love!
Traveling with a toddler. We became those parents. This was our very first family vacation with a kiddo on board and let me tell you - being prepared is key! After you have a baby, suddenly EVERYTHING is about them. I used to have to pack Tom's clothes for him and this time around I simply said "fend for yourself, I have the baby to worry about." I'm not talking about just clothes…I'm talking from clothes, to Tylenol, to his favorite pacifier, snacks and of course other baby traveling essentials like carseat carriers and strollers.
Many of the travel essentials we got right at our local WalMart but and the rest of the essentials we got at WalMart.com with 2 day shipping (on most items). September just so happens to be Best of Baby month at WalMart with amazing savings throughout the entire month.
Now that we have been there, done that - I wanted to share with you 10 items that you must have when traveling with a toddler.
Journey
Car Seat
A must have. We brought our lightest & favorite carseat for travel, which you can find HERE on major sale. It was so easy to travel with, we actually bought THIS carseat travel bag at WalMart.com which protected the seat and made it so easy to carry around at the airport. Note: You can rent carseats, but it was highly recommended to us to bring our own!
Pack N' Play
Optional - depending what your accommodations offer. We used THIS ONE from WalMart because it folds up nice and small and is perfect for on the go. Dominik slept great in it.
Stroller
We used the Baby Jogger City Mini for our trip and it was AMAZING. It was so easy to travel with. It folds and opens SO easy…with ONE hand. It's light and small but also big and comfortable for the child. It has a recline option and rides like a Cadillac. You can get it for 2 day free delivery HERE. The best part is, this stroller will last forever and can be used everyday!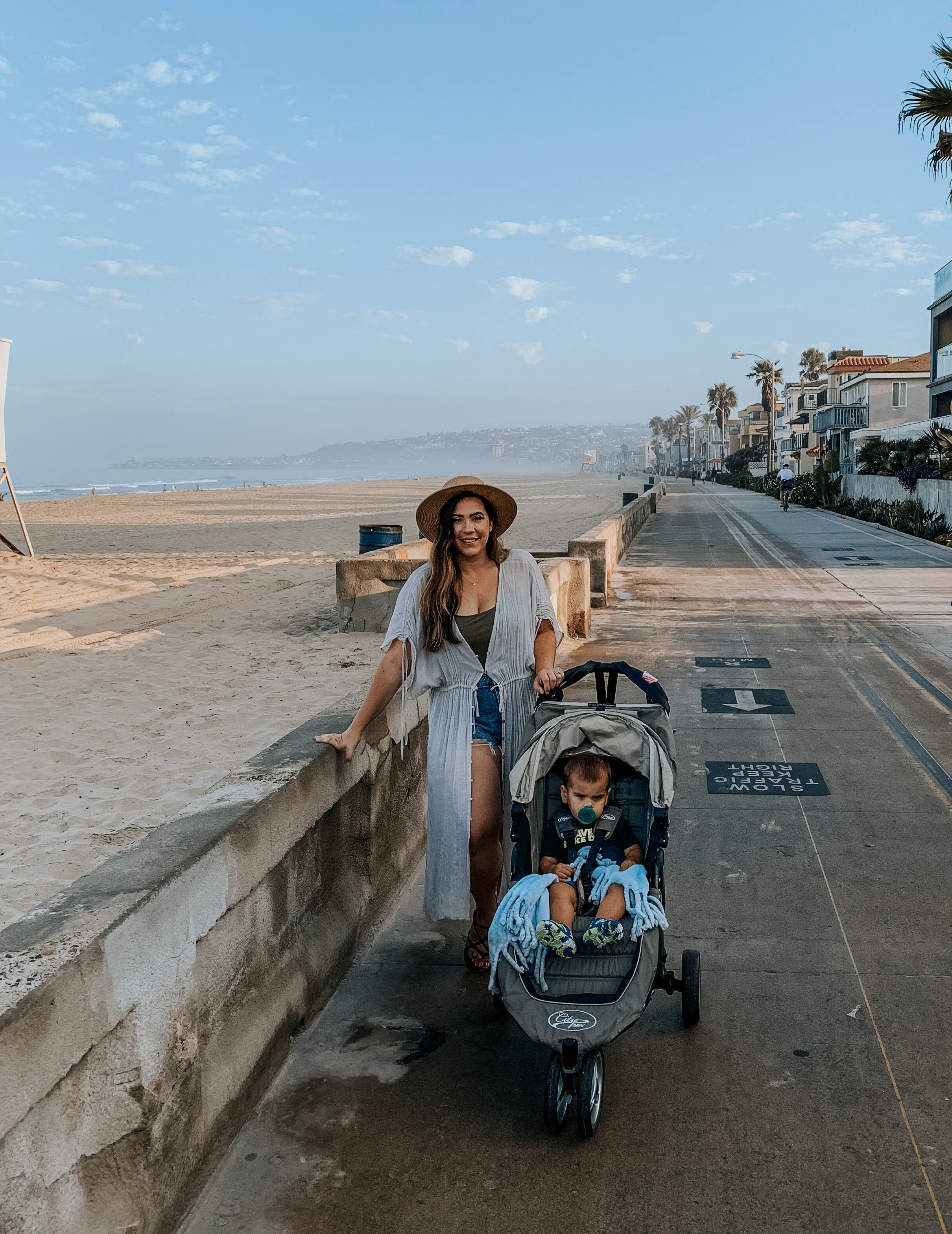 The stroller was seriously the real MVP.
Carrier
We packed our baby carrier because we knew Dominik would get sick and tired of sitting in a stroller. This gave us the option to leave the stroller behind while on adventure! Walmart has carriers starting at $16. Our was a gift but I am linking some of my favorites below!
Sound Machine
If you know us, you know THIS ONE is our HOLY GRAIL baby item. It gets so loud, it's portable and easy to use and it helps Dom get from one sleep cycle to the next. We do not leave home without it.
Backpack Diaper Bag
This is a must. You will need a place to store all the things like diapers, wipes, snacks, drinking cus, toys…YOU NAME IT. We loved having a backpack option because it lightened the load so much. Walmart has such great options for diaper bags. THIS high end one is available in many colors, for free delivery and a great price.
Food & Drink
Portable High chair: optional. THIS ONE is available only at Walmart for a super awesome price!
Snack Containers: We brought a couple of THESE because they're nice to have on the go in the stroller. And as you maybe saw on IG stories we used one of Tom's tackle boxes for airplane activity/snacks. Linking a tackle box you can find at Walmart HERE.
Feeding: We brought this Bento Box for meals, the inside comes out so we used it as his plates for meals we cooked in the AirBNB. It's available for free delivery and Dom can use it for many years to come. Bonus: It comes with silverware. Have at least two drinking cups, we brought THESE and they're currently a Rollback item for a great price.
Miscellaneous
Sunscreen, comfortable toddler shoes, swim diapers, first aid kit (including medications), sleep sack, light blanket, sun hat, books, tablet.
I prefer to be over prepared than under prepared AKA I would rather bring something we will not use than not have it, because the last thing you want is to pack up your baby and find a store to go shop for overpriced items you left at home. After our first trip with our toddler, I thought really hard about what items I truly would bring over and over again. Best part is, you can buy them all at one spot: Walmart. This entire month you can check out their amazing savings and prepare for your upcoming trip.
Shop this Post